155,813 deportees escape immigration blacklist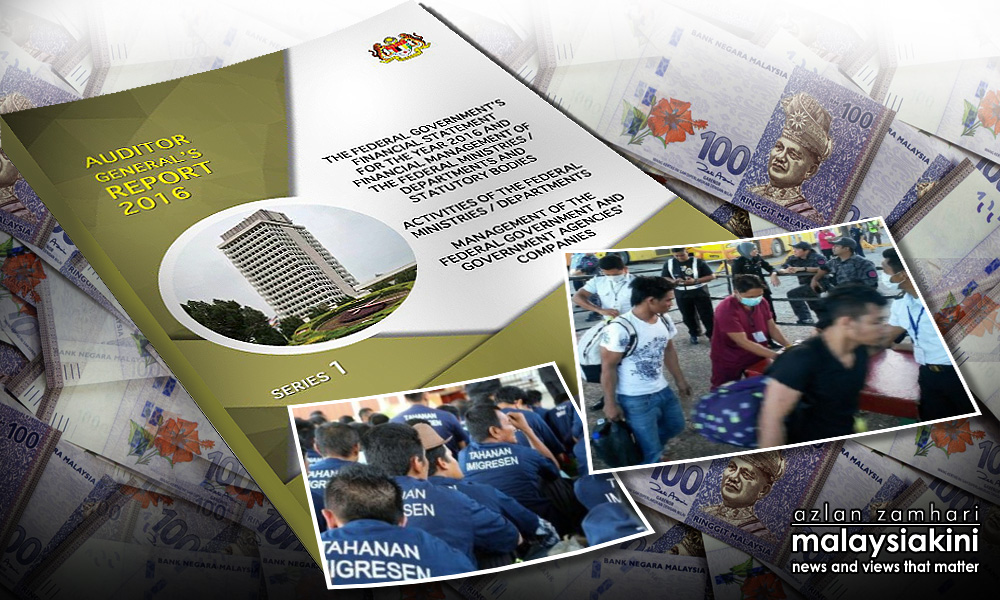 AUDIT REPORT | The majority of undocumented migrants deported between 2014 and 2016 are missing from the Immigration Department blacklist, the first series of the 2016 Auditor-General's Report revealed.
The department deported 179,364 undocumented migrants during the period, of which 155,813 were not flagged on the Immigration Department's "myIMMs" system.
"(Migrants) that have been deported are still not blacklisted in the myIMMs. They were not included in the suspects list," the report read.
Unlawful entry or presence – either by overstaying, abusing or violating a visit pass, not possessing valid travel documents or by using forged travel documents – is an offence under the Immigration Act 1959/63.
Those caught doing so will be deported once all documentation processes are complete. They will also be blacklisted from entering Malaysia if convicted under the Act.
In a response to the Auditor-General's Report dated April 26, the Immigration Department stated that its Records and Informational Technology division was investigating the matter.
No quarantine
Meanwhile, the report also drew attention to the lack of quarantine facilities for female detainees at Immigration Department's depot in Langkap, Perak.
During a visit, the audit team found that female detainees with infectious diseases were being held together with other inmates.
"Male quarantine rooms were provided but female quarantine rooms were not.
"Infected female detainees were placed together with others including babies and children," the report said.
image: https://i.malaysiakini.com/1136/c86cd5ef730a3afc1c12f79444748cd4.jpeg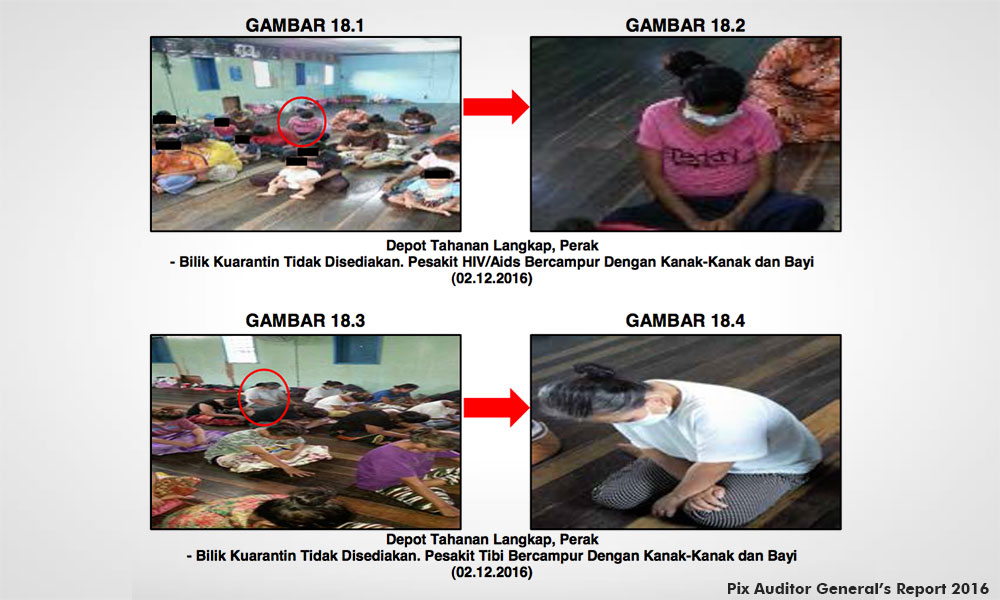 This was acknowledged by the Home Ministry and Immigration Department in a reply to the auditors.
The ministry and the Immigration Department said that a new building would be completed to house male detainees on June 23, following which, female detainees would occupy the present facility used by men, which are equipped with quarantine rooms.
Caterer cutting corners
At the Pekan Nenas, Johor depot, the audit team discovered that the appointed caterer did not fulfil its contractual obligations.
"The menu provided by the contractor was air sirap (syrup water) and meat dishes.
"But the contractor only provided water and food that did not match the menu stated in the contract," the report said.
To this, the Immigration Department responded by claiming that issue had been resolved after the Pekan Nenas depot commandant ordered the caterer to comply with the terms of the contract.
Putrajaya spent RM95.24 million on detaining and deporting undocument migrants between the 2014-2016 period, read the report.
The largest number of deportees were from Indonesia (75,580), followed by Bangladesh (27,283) and Myanmar (17,627).
Read more at https://www.malaysiakini.com/news/390432#Ab3XxCAwaYqojRJQ.99
Artikel disiar pada July 31, 2017 - 7:16 pm oleh Susan Loo