Penang's Kg Mutiara villagers given 3 months to vacate homes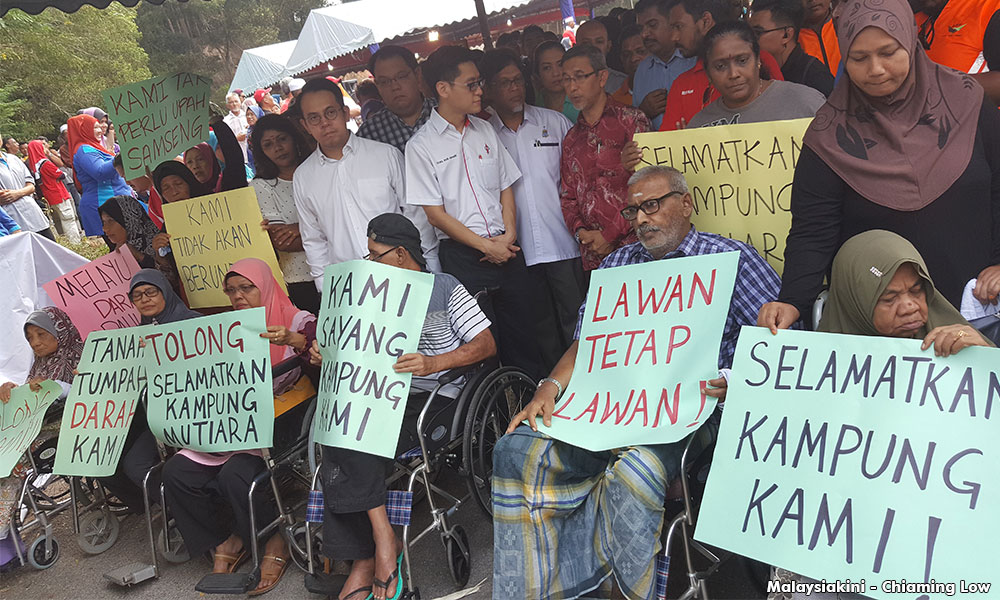 Kampung Mutiara villagers have been given three months to vacate their homes after they were threatened with eviction today.
A settlement was reached between the landowner, Penang Deputy Chief Minister I Rashid Hasnon and Umno Bukit Bendera division chief Ahmad Ismail, who represented the villagers.
Landowner Loke Leng Seak agreed to withdraw the writ of eviction dated today.
About 500 people gathered inside and outside the village since this morning to protest the eviction exercise.
The villagers placed 10 vehicles and large tree trunks to block the village entrance, to prevent any bulldozers from entering the area.
They formed human barricades in several spots, while women and senior citizens in wheelchairs were seen holding placards.
Rashid and Ahmad, along with Bukit Bendera MP Zairil Khir Johari, Bukit Mertajam MP Steven Sim and Northeast District police chief Anuar Omar, accompanied the court assistant registrar to the village.
Later they proceeded to negotiate with the landowner outside the police station.
After a consensus was reached within all the parties, they marched back to the village to announce the decision.
According to Ahmad, the writ of eviction was revoked with a condition that the villagers need to move out by three months or the landlord may file an application in court for a fresh eviction order.
To guarantee that the villagers will move out on time, he issued two cheques for RM100,000 to the landowner as surety.
Meanwhile, Ahmad said that the landowner has been paying the quit rent every year but does not collect anything from the residents.
"So, he hopes the state government can waive his quit rent for five years. Of course, he needs to apply for that officially from the state government."
Ahmad also said the plan is to move the villagers into UDA Holdings temporary housing.
According to Rashid, the UDA Holdings temporary housing in Sri Tanjung Pinang is not yet ready for the villagers.
"I brought the landowner to visit the housing project and convinced him to postpone the eviction," he said.
"The state government is planning to develop two plots of lands adjacent to Kampung Mutiara and the residents can move back to the area in the future.
"Since the landowner agrees to give extra time for the residents to move out, Penang government will also withdraw the notice issued under Section 4 of the Land Acquisition Act, to acquire the village land for public housing."
Read more at https://www.malaysiakini.com/news/390433#SkOwlZRpLoYkgEoT.99
Artikel disiar pada July 31, 2017 - 7:16 pm oleh Susan Loo