Pro-Umno portal: It was Anwar who first exposed Dr M's Indian roots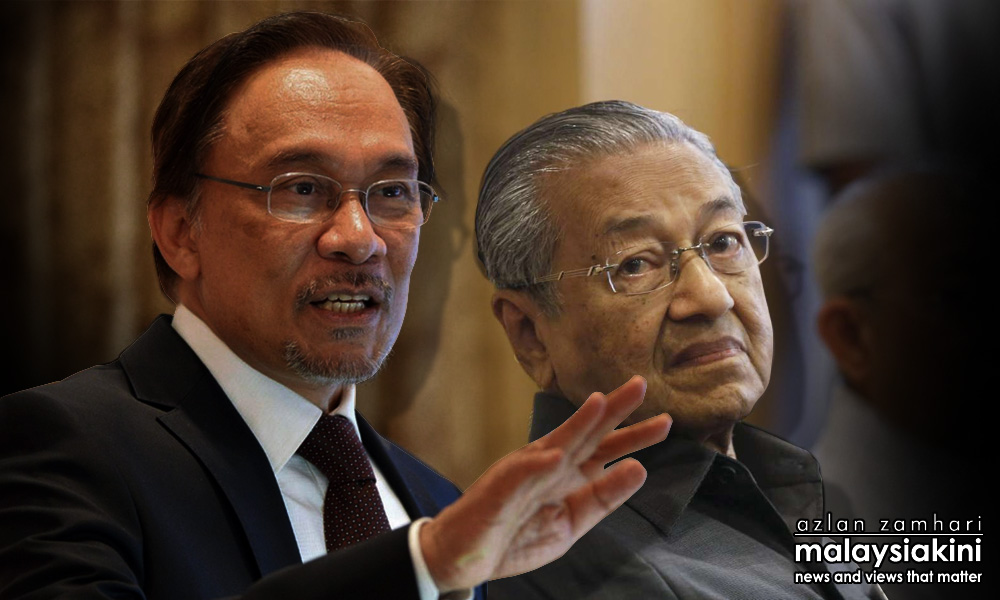 Weighing into the heated exchange over Dr Mahathir Mohamad's paternal roots, a pro-Umno portal claims it was Anwar Ibrahim who first harped on the former prime minister's Indian heritage.
The portal, MyKMU.net, also published a video in which Anwar is seen mocking Mahathir over this during a ceramah.
"Anwar is the first one to expose Mahathir's lineage after his sacking as deputy prime minister in 1998… Before this, talk about Mahathir hailing from Kerala was like an open secret in Malaysia. Furthermore, Mahathir was embarrassed to admit it.
"But since Anwar exposed it, Mahathir's roots became the laughing stock and subject of political jokes among opposition supporters – Ironically, it is the same group that is now criticising (Deputy Prime Minister Ahmad) Zahid (Hamidi)," MyKMU.net added.
Towards the end of the 18.52-minute video clip, Anwar tells his audience how Mahathir is questioning the granting of citizenship to non-Malays.
"How silly, ask Mahathir, where is he from?" said Anwar, to which the crowd responded, "India", "Kerala".
"Where is his father from?" added Anwar.
The portal was responding to Zahid drawing brickbats for raising the issue during a speech.
The deputy prime minister had claimed that the National Registration Department (NRD) director-general sent him a copy of Mahathir's supposed identity card, which stated the former prime minister name as "Mahathir a/l Iskandar Kutty".
The patronym "a/l" (short for "anak lelaki", meaning "son of") is commonly used by Indian Malaysians, although it is also used by some indigenous groups. "Kutty" is a common Tamil-Malayalee name.
However, MYKMU.net said it is puzzled by the furore surrounding this issue, since it is not something new.
"Doesn't everybody know this? Zahid only affirmed it with facts. What is most comical is when the exposure is called an insult. Is stating a fact insulting? Mahathir, who is embarrassed to admit his roots, is the one who should be accused of insulting…" it added.
The portal said nobody had kicked up a fuss when Anwar used this issue to crack jokes at his ceramah.
"If you want to be angry, be angry at Anwar. What's the point of being angry with Zahid?" it added.
Earlier today, a Facebook page comprising supporters of Mahathir's son Mukhriz claimed that it was the former prime minister's grandfather, and not father, who hailed from Kerala, India.
Meanwhile, a police report has also been filed against Zahid and the NRD director-general over this issue for allegedly abusing the Mahathir's personal data for political purposes.
Artikel disiar pada July 31, 2017 - 7:16 pm oleh Susan Loo