Muslim-only laundrette: Preacher claims he did not mention Johor ruler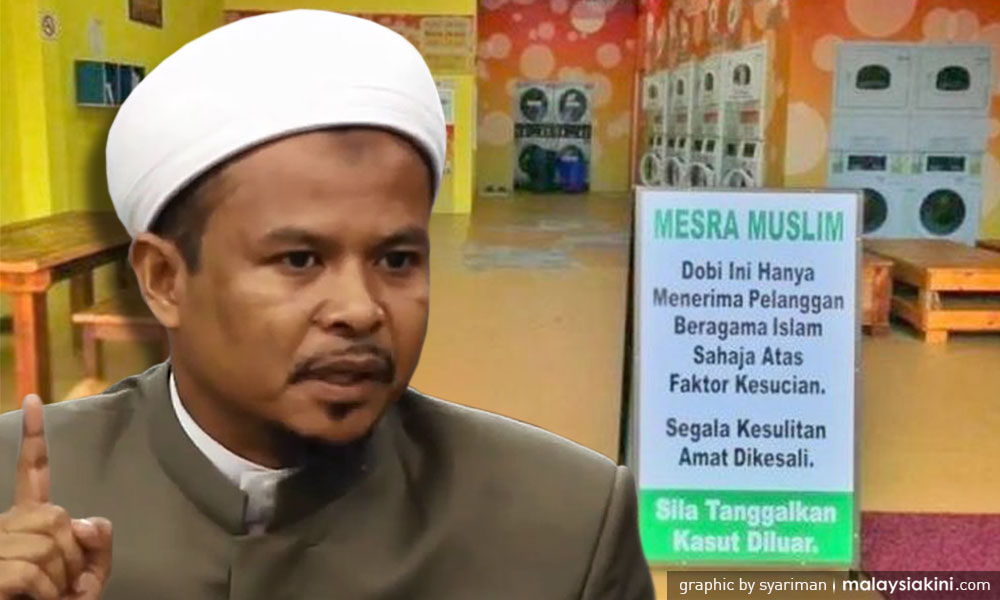 Prominent Muslim preacher Zamihan Mat Zin has clarified that he did not mention Johor ruler Sultan Ibrahim Sultan Iskandar during his lecture, where he condemned critics of the "Muslim-only" launderette in Johor.
In a statement today, Zamihan said he never used any words that were inappropriate or seditious during the lecture at the Masjid Diraja Tengku Ampuan Jemaah in Shah Alam last week.
"I am ready to be investigated because I believe in the principle of 'berani kerana benar' (I am brave because I speak the truth) and fear of God," he said.
Zamihan said he held the Malay rulers in high regard and had once presented a talk on "Syiah threats" during the Conference of Rulers in October 2013.
"Furthermore, the Johor ruler is someone who is close (to) the people and is steadfast to the Sunni teachings. Therefore it is impossible that I will use words that will insult the Johor ruler.
"However, I ask for forgiveness if the Johor ruler is upset over this misunderstanding. Ampun Tuanku," he said.
Blames liberals, media
Zamihan, who heads Pertubuhan Ahli Sunnah Wal Jamaah Malaysia (Aswaja), accused the media of character assassination by accusing him of insulting the ruler.
He claimed that these media reports tried to cause discord among Malaysia's different ethnic groups and called for an investigation into the "republican agenda" of the "liberal Muslims" who want to abolish the monarchy.
He also criticised Perlis mufti Mohd Asri Zainul Abidin and Federal Territories mufti Zulkifli Mohamad for objecting to the Muslim-only launderette.
Zamihan clarified that he has not worked for the Malaysian Islamic Development Department (Jakim) office for 13 years and that he had delivered the lecture in his personal capacity.
The allegedly inflammatory speech saw Zamihan criticising those who disagreed with the existence of a "Muslim-only" laundrette and mentioned "tuanku" without naming the ruler concerned.
A case for 'cleanliness'
However, it was Sultan Ibrahim who decreed that Johor cannot have a laundrette that is exclusive to Muslims. This has received the backing of other Malay rulers yesterday.
Excerpts of Zamihan's speech are as follows:
"Dobi mesra Muslim. Benda kecik bising seluruh dunia. Ada sultan kata dobi mesra Muslim tidak wajar ada di negeri beta. Ini bukan Afghanistan, negeri Taliban, zam-zam alakazam.
"Tak patut tuanku cakap macam itu. Patutnya dobi mesra Muslim ini menunjukkan orang Islam mementingkan suci lagi menyucikan."
(Muslim-friendly launderette. A small matter which is blown out of proportion. There is a sultan who said Muslim-friendly laundrettes should not exist in his state. [He said] this is not Afghanistan, a Taliban state.
(Tuanku should not have said so. The Muslim-friendly laundrette shows that Muslims prioritise cleanliness [as a religious obligation].)
Zamihan said Muslims required clothes that are free from "najis" (filth) to perform obligations such as prayer or the studying of the Quran.
To back his argument for a Muslim-friendly launderette, Zamihan said the clothing of the ethnic Chinese might be tainted by alcohol, dogs, pork and even excrement.
Artikel disiar pada October 11, 2017 - 2:44 pm oleh Susan Loo