UMNO AGM | Since former prime minister Dr Mahathir Mohamad crossed over to the opposition, Umno and BN leaders have dredged up his past transgressions.
However, critics have questioned the silence of these leaders on such issues when Mahathir was in power for more than two decades.
According to Umno Youth chief Khairy Jamaluddin, there was no freedom for dissent during Mahathir's "iron-fisted" rule.
"Some ask why we were quiet in the past, why didn't we say anything? The answer is simple, in the past, there was no freedom to speak out, in or outside the party.
"Critical newspapers were shut down, political critics were arrested and thrown in jail under Ops Lalang," Khairy said at the Umno Youth general assembly at the Putra World Trade Centre (PWTC) in Kuala Lumpur.
The youth and sports minister also cited the Memali incident, the stifling of judicial powers, the use of the Internal Security Act 1960, and the introduction of the Universities and University Colleges Act 1971 as further proof of Mahathir's efforts to quash dissent.
"In the party, government, and country, there was a culture of fear.
"(He ruled with an) iron fist. But now he speaks as though he is free from sin and we are the cruel dictators," Khairy said.
Harapan and Mahathir banking on nostalgia
Khairy's speech centred around dispelling the nostalgia surrounding Mahathir, who now leads the main opposition group Pakatan Harapan.
He said Harapan and Mahathir were banking on nostalgia to win over the public in the 14th general election (GE14).
However, he said, not everything was good during the Mahathir era.
He cited how back then, it was the "towkays" who benefited from Mahathir's business policies while the rakyat lost out.
Khairy further blamed Mahathir's focus on building megastructures for the current economic woes, such as low wages, unemployment and rising debt faced by Malaysians.
"The reality is that these problems are all legacies (from) when the administration's vision was to build giant monuments but not to develop its own people.
"It was only in Pak Lah's (Abdullah Ahmad Badawi) (photo) time that we focused on human capital development," he added.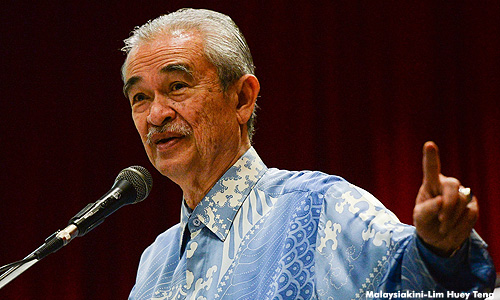 Mahathir and the 'fourth-floor boys'
When Mahathir had embarked on a campaign against his handpicked successor Abdullah, he had often targeted Khairy, who is Abdullah's son-in-law.
Abdullah had addressed this in his book, titled the "Awakening", accusing Mahathir of being a hypocrite for his relentless attacks against the business deals involving his son and son-in-law.
"There were many allegations also made against my son and son-in-law regarding government projects and business, particularly by Mahathir.
"… I can tell you that throughout my entire time in office – be that as a minister, deputy prime minister or prime minister – my son never got anything through direct negotiations, let alone be awarded anything on a silver platter by the government.
"I think it is hypocritical of Mahathir to try and deny my family from being legitimately involved in business when his own children were all heavily involved in business in a big way throughout the entire time he was prime minister," he said.
Abdullah had also defended Khairy with regard to the perception that his Oxford-trained son-in-law and his band of advisers, commonly referred to as the "fourth-floor boys", were running the government.
"It is very, very unfair to have made such accusations against members of my family, against people who served me loyally as my staff but the truth is – they were not my advisers.
"They were official members of my administration, my son-in-law included, for a while. They assisted me in my work, preparing position papers and research," he added.