As if artists have no right whatsoever to speak up, rues Adibah Noor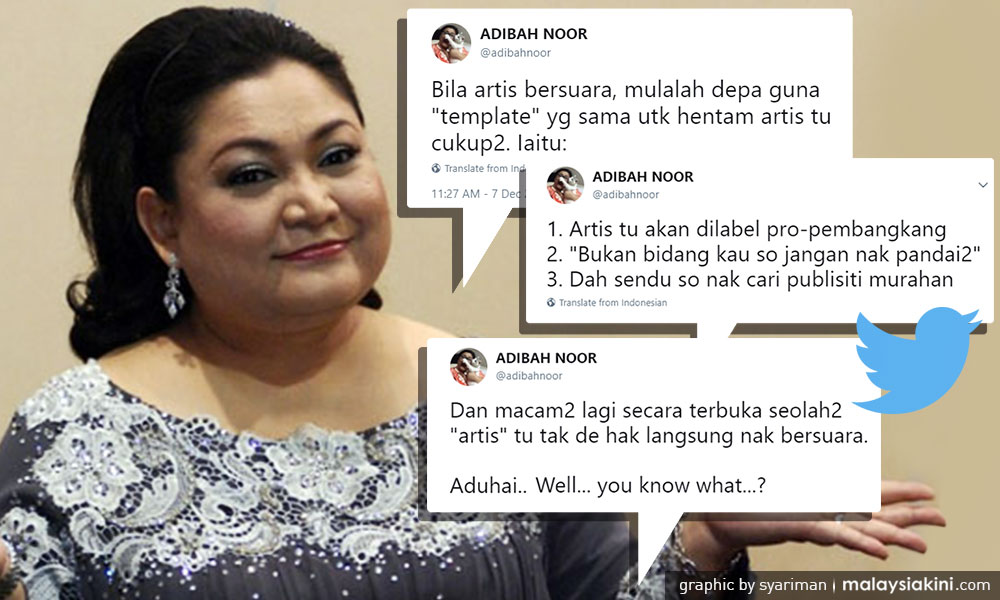 Another artist has spoken out against the ruling party for trying to muzzle the people who air their grouses.
This follows hot on the heels of an Umno outcry over veteran singer Sheila Majid's comments about the state of the nation this week.
Award-winning actress and singer Adibah Noor today tweeted that politicians were fond of using their "template" replies to criticisms.
"When an artist speaks up, then they start to use the same 'template' to hentam (attack) the artist to the hilt.
The template, she said, was firstly to label the artist "pro-opposition".
"Secondly, (they would say) 'this is not your field, so don't try to be clever.
"Thirdly, (they would say the artist) is down, and trying to find cheap publicity.
"And much more, as if the artist has no right whatsoever to speak up," she tweeted.
On Tuesday Sheila landed in the national spotlight after she tweeted about runaway inflation, unemployment and the depreciation of the ringgit.
She also suggested that Malaysians are angry for having to deal with a "debt" that they had no part in creating.
By the next day, Sheila's tweet had garnered up to 17,994 retweets and 10,554 likes.
'Netizens are voters too'
Adibah, who played the lead in the Singaporean film 'Fundamentally Happy' which was banned in Malaysia last year, did not mention Sheila specifically or name her critics.
However, it was a clear reference to the latter singer's comment, which came in the thick of Umno's final annual general meeting before the next general election.
The veteran singer's remarks sparked a backlash from Umno delegates, with Umno information chief Annuar Musa claiming economics was not Sheila's forte and she had purportedly gotten her facts wrong.
"This is not her expertise. If she wants to talk about the high cost of living, a rubber tapper can do that too," responded Annuar the next day.
Others also condemned Sheila, ranging from telling her to "go to hell" to cautioning her outspokenness as others look up to celebrities and may believe what she says against the government.
"Well… you know what? Many of the netizens who read (Sheila's comments) are those in the know and registered voters," tweeted Adibah further.
One of her followers tweeted in response, quipping, "People make it like celebrities are not Malaysians, too."
Malaysians have been complaining of the rising costs of living amidst the ringgit faring its worst in decades, made worse by the implementation of the Goods and Services Tax (GST) and soaring fuel prices.
In addition, US authorities also launched its largest case in its kleptocracy crackdown against money it claimed had been laundered using funds allegedly originating from debt-ridden 1MDB, followed by a criminal probe on the same matter.
Artikel disiar pada December 7, 2017 - 2:01 pm oleh Susan Loo