Najib: God willing, 1,000 years of Umno or darkness under DAP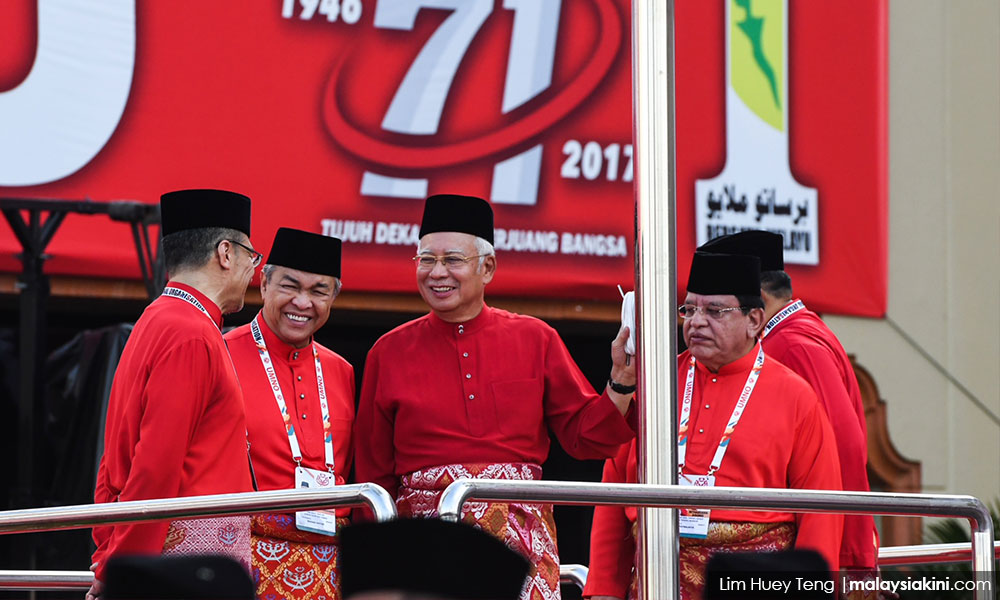 UMNO AGM | Prime Minister Najib Abdul Razak is confident that Umno will continue to rule the nation, not only after the next general election but with the grace of God, for centuries to come.
"Umno will continue to be fresh, to live and lead, not just for the next 30 years, but, Insya Allah (God willing), for another 1,000 years!" he said to cheers from delegates at Umno's 71st annual general assembly at the Putra World Trade Centre (PWTC) in Kuala Lumpur this morning.
Najib, who is also Umno president, asked if the party was prepared for the coming general election and delegates roared "sedia" (ready).
He said the next election boiled down to two choices – a brighter future for the nation under Umno and BN or a bleak future under the opposition, namely DAP.
"A road that is not only dark under the claws of the DAP dynasty, stumbling in the dark without direction, filled with lies that will drag us back to ancient times with cronyism and iron-fisted rule," he added.
Najib also issued a dire warning that should Umno be defeated in the next election, it would spell doom for Malay institutions.
He claimed that Islam and Malay institutions such as the monarchy, Mara, Felda, Tabung Haji and Universiti Teknologi Mara (UiTM) were at stake.
"If the opposition wins… the special rights of Malays, as the original forbearers of this land, from a noble and free race, will have its pride stepped on and its (position) in the centre sold.
"Worse yet, they will be vagabonds, cursed and despised, until they terbangsat (become bastards) in their own homeland," he added.
Najib said Umno has an important mission which is to ensure the survival and destiny of the "umat" (people or congregation) and the nation.
The current parliamentary term expires on June 26, 2018, which means that GE14 must be called within 60 days from that date.
GE14 is expected to be one of the most hotly contested elections in Malaysian history, with Umno facing an opposition led by former premier Dr Mahathir Mohamad.
The ruling coalition BN, which lost the popular vote in the last election, would also be looking to prove itself by regaining a two-thirds majority in Parliament, something it has been denied for two consecutive terms.
Artikel disiar pada December 7, 2017 - 2:02 pm oleh Susan Loo