Know the 'power' of your vote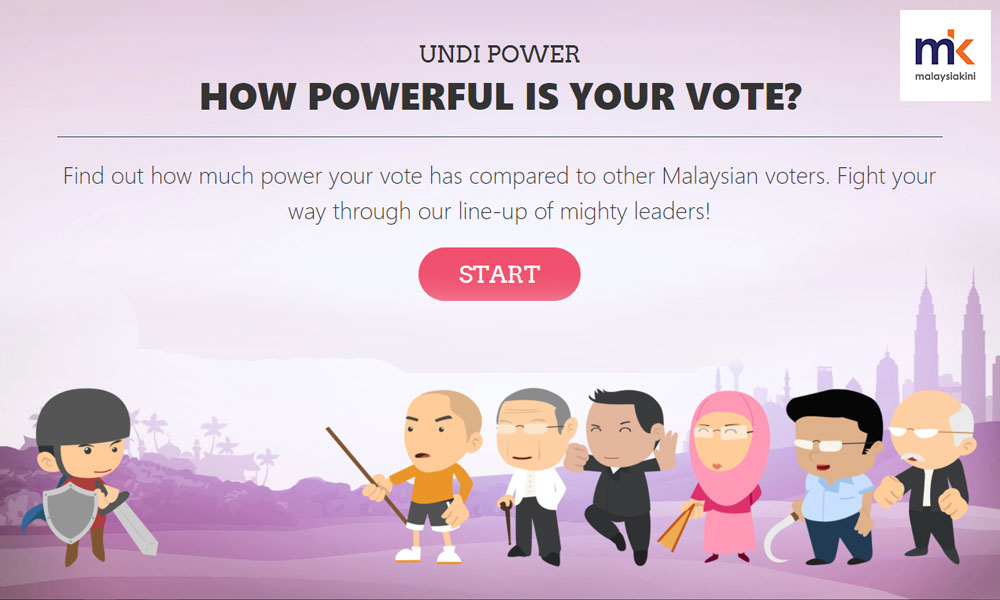 If you are a voter in Kapar, the largest parliamentary constituency in Malaysia, does your one vote carry the same weight as a voter in Putrajaya representing the smallest federal seat in the country?
What does that even mean, you ask?
Curious to find out more? Check out Malaysiakini's latest minisite "Undi Power".
Through a simple game, you will find out the "power" of your vote and how it influences the process of electing lawmakers in the Dewan Rakyat.
For the first step, click "Start" and select your parliamentary voting constituency.
Then proceed to select your opponent from six characters representing six parliament seats – Serdang, Gelang Patah, Pekan, Permatang Pauh, Kinabatangan or Putrajaya.
Using the example of a Kapar voter versus a voter in Putrajaya, the outcome of a subsequent animated "battle" would show how you would lose to your opponent.
You would then have a chance to replay, change your opponent or find out more about mechanisms of how the election is being carried out in terms of voters representation.
In this case, the explainer would state that you have "lost the battle" because your Kapar seat has about eight times more voters than your opponent's seat in Putrajaya, but only one Member of Parliament is elected for each seat.
This means that one vote in your opponent's seat carries the same weight as eight of your votes.
In other words, voters in Kapar are under-represented, while voters in Putrajaya are over-represented. This malpractice is called malapportionment and a violation of the "one person, one vote" principle.
Still curious to find out more about why isn't every vote equal?
Just click on the link for a full explanation, complete with accompanying graphics and animated charts.
Among others, you would discover how in an extreme case, Barisan Nasional or the federal opposition could form the government by winning just 17 percent of the total vote cast, based on registration figures from the Election Commission's 2016 first quarter voter list.
More than just exercising your right as a voter, take this chance to understand what it means, with the 14th general elections expected to be just around the corner.
Artikel disiar pada January 5, 2018 - 3:45 pm oleh Susan Loo