Harapan tussles over best strategy in battle for greater JB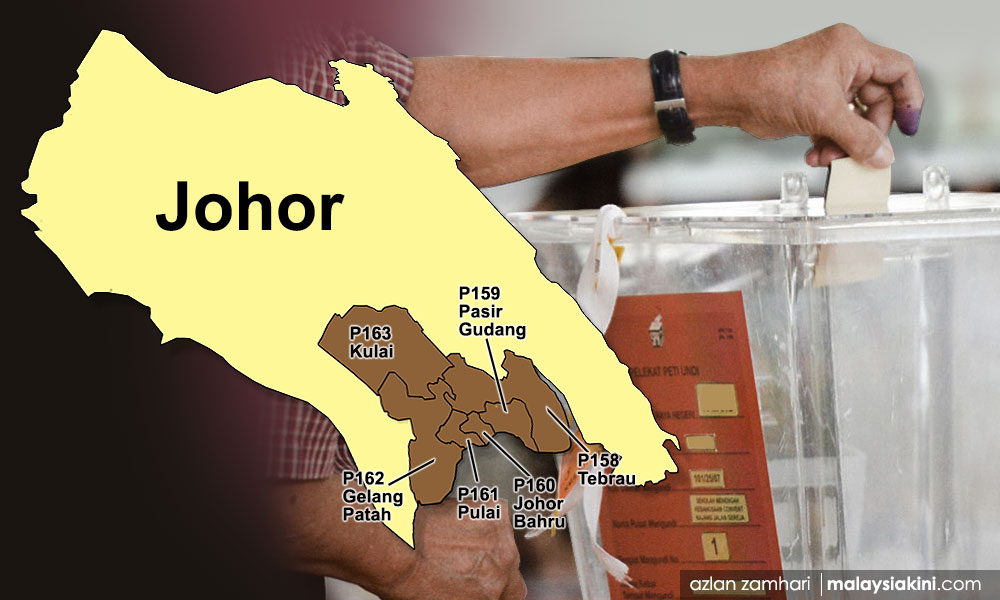 In the last general election, Pakatan Rakyat broke the myth that Johor was a BN "fixed deposit" state, and its successor opposition coalition Pakatan Harapan now seeks to build on that momentum, going into the 14th general election.
The opposition, in a strategic electoral assault on BN's stronghold of Johor in the 13th general election, managed to pick up four more parliamentary seats on top of the solitary seat it had going in.
Four of the five Johor parliamentary seats were captured by DAP. Its gains were attributed to its high-stakes strategy of fielding party heavyweights in BN-held parliamentary seats.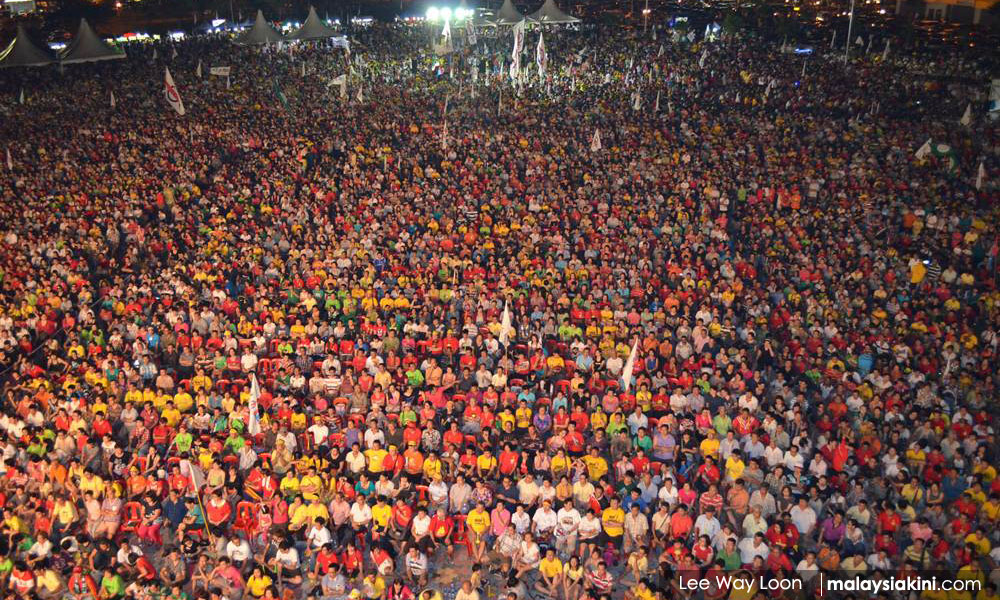 Despite DAP's success, the strategy has not been viewed favourably by PKR, which has the more arduous task of contesting in less urbanised seats with a smaller Chinese Malaysian electorate, which was highly supportive of the opposition in the last general election.
PKR believes the key to victory is not necessarily fielding heavy hitters, but leaders who have a strong connection to the local community.
It was the same strategy that saw PKR pulling off one of the biggest upsets when its candidate Mohd Idris Jusi, born and bred in Batu Pahat, unseated Umno supreme council member Mohd Puad Zarkashi in the mixed but Malay-majority parliamentary seat.
Going into the 14th general election, a key objective of Harapan is to capture the greater Johor Bahru, which comprises six parliamentary seats, namely Johor Bahru, Tebrau, Pasir Gudang, Pulai, Gelang Patah and Kulai.
Two of these seats, Gelang Patah and Kulai, are already under opposition control after DAP deployed two heavyweights, Lim Kit Siang and Teo Nie Ching, to contest the seats.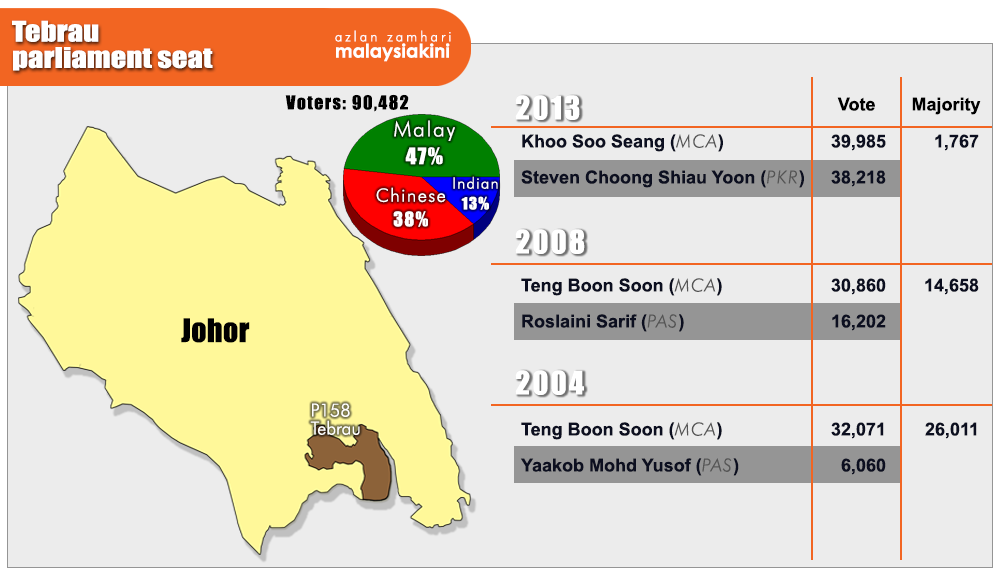 PKR fielded local candidates in Tebrau and Pasir Gudang, and a heavyweight in Johor Bahru, but all three were defeated.
In fairness, PKR lost narrowly in Tebrau and Pasir Gudang – by 935 and 1,767 votes respectively – while in Johor Bahru, it faced the uphill task of reversing BN's majority of over 25,000 votes, the highest BN majority of the six greater Johor Bahru parliamentary seats.
While all six parliamentary seats within greater Johor Bahru are considered mixed, the seats contested by DAP were Chinese-majority, while those contested by PKR were Malay-majority.
The last seat, Pulai, was contested by Salahuddin Ayub, a PAS leader at the time. Salahuddin later joined the exodus to Amanah, and is now its deputy president.
Salahuddin, who hails from Johor, was also considered a national heavyweight. However, he was not a Pulai native, having grown up in Pontian, which is 40km away, and spent most of his political career in Kelantan.
He managed to reduce BN's 20,449-vote majority to 3,226, but failed to unseat the incumbent. Prior to the 13th general election, the seat had the second largest BN majority in greater Johor Bahru.
At loggerheads over strategy
The difference of opinion between DAP and PKR on whether fielding locals or heavyweights is the best strategy going forward has persisted and has even caused friction between the two parties.
The conflict boiled over when DAP parliamentary leader Lim Kit Siang proposed that PKR surrenders one of the parliamentary seats it contested in greater Johor Bahru to DAP.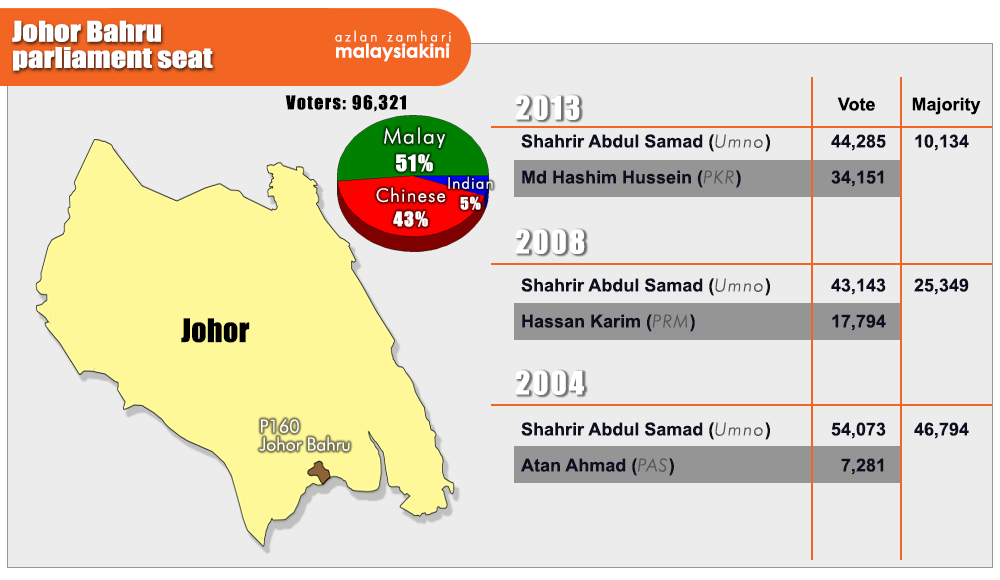 A number of Johor DAP and PKR leaders spoke to Malaysiakini about this tussle, but on condition of anonymity, not wanting to aggravate their already icy relations due to the strategic differences.
DAP insiders said the party had wanted a seat from PKR so that it could field another heavyweight in greater Johor Bahru – perceiving PKR as weak due to the absence of heavyweights, and its insistence of using its "local leaders" strategy, which is seen as ineffective.
A Johor DAP source lamented that the party had pushed for a three-pronged attack, with Lim leading the charge for DAP, Salahuddin for Amanah and a heavyweight for PKR. But PKR was not receptive to such a strategy.
"To conquer greater Johor Bahru, we are lacking an 'X-factor' candidate. If you can't win here, don't dream of Putrajaya.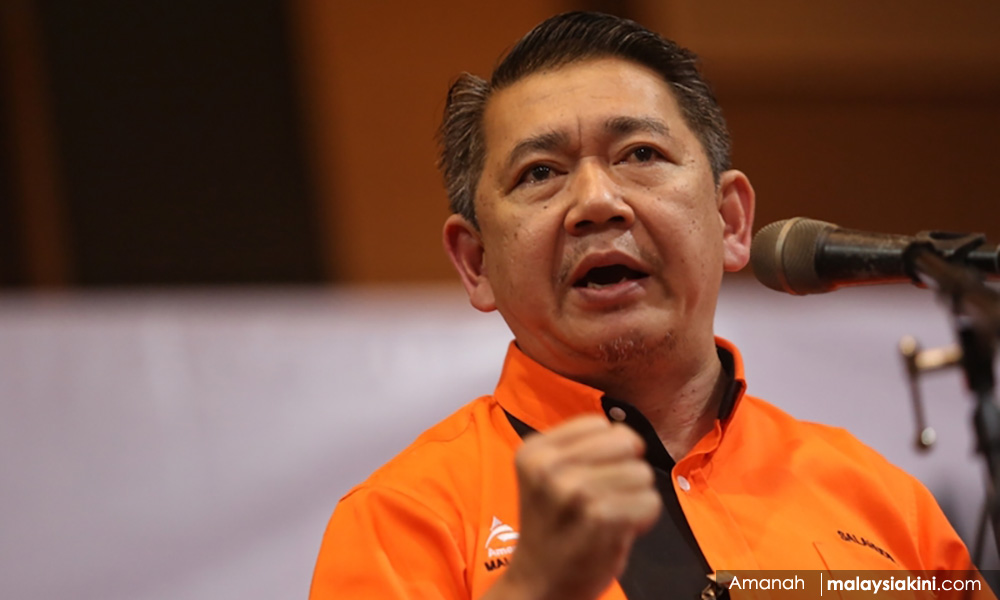 "The person must be able to work with Lim and Salahuddin (photo) to form a triumvirate," the source told Malaysiakini.
On BN's side, greater Johor Bahru is being "guarded" by three prominent Umno leaders, namely Felda chairperson Shahrir Abdul Samad (Johor Bahru), Deputy Home Minister Nur Jazlan Mohamed (Pulai), and Johor Menteri Besar Khaled Nordin.
While Khaled is no longer a parliamentarian, his political base is in Pasir Gudang, where he was the three-term MP from 2004 until 2013. In the last general election, he contested in Permas, a state seat within the Pasir Gudang constituency, and was subsequently made menteri besar.
Amanah too had tried to nudge PKR on a possible battle of heavyweights, by proposing that its current Shah Alam MP Khalid Abdul Samad contest in Johor Bahru against Sharir, his elder brother. However, Khalid later expressed his intent to remain in Shah Alam.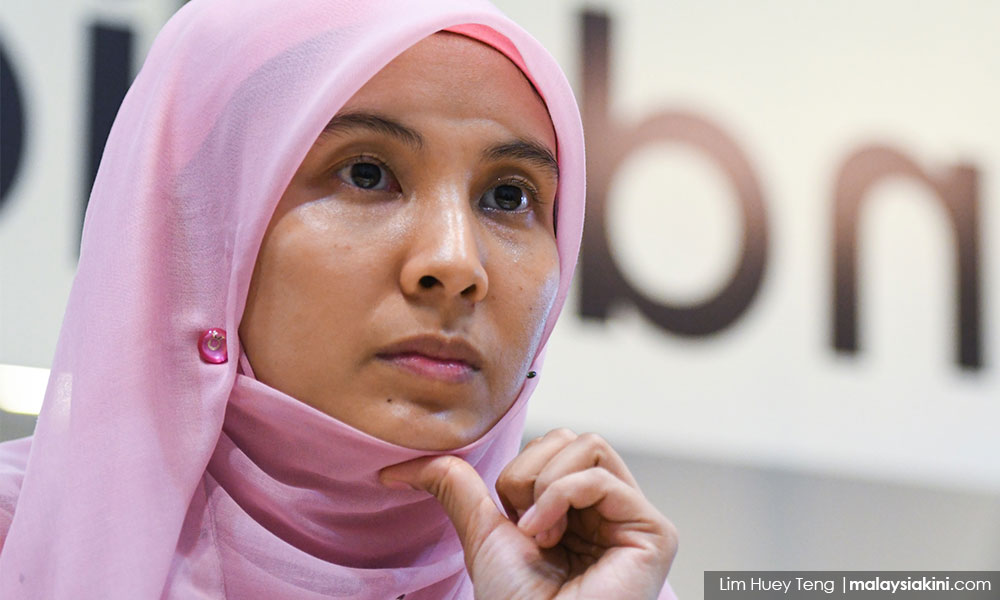 The DAP source complained about PKR's unwillingness to play this high-stakes game, pointing out that a plan to let PKR vice-president Nurul Izzah Anwar (photo) lead the charge in Johor during the last general election was also abandoned.
The source believed that a prominent leader like Nurul Izzah would have given PKR the last mile push it needed in the last general election.
A source within the Johor PKR leadership acknowledged the attempts to push his party to adopt the heavyweight strategy, but insisted that the strategy used in Chinese-majority seats contested by DAP will not necessarily work in the Malay-majority seats contested by PKR.
DAP, PKR seats different
He stressed that local voters in these seats want someone who they are familiar with, compared to heavyweights who are "parachuted" into the constituency.
"Johor Bahru may be an urban centre, but greater Johor Bahru, the Malay ground, is semi-urban," he said.
The PKR source likened Johor Bahru to the Lembah Pantai parliamentary constituency, with upper-class areas such as Bangsar nestled alongside lower-income Malay villages like Pantai Dalam.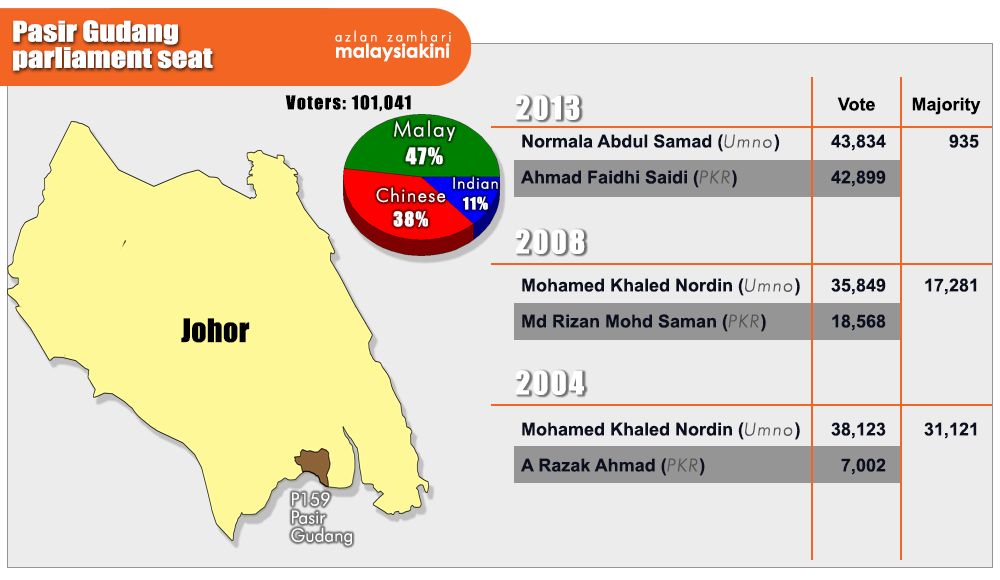 "Pasir Gudang is a working-class area with many factories. Tebrau, likewise, has a very diverse demography, some parts of it are middle class, and other parts consist of Felda settlements and kampung.
"Local Malays are more supportive of candidates who work the ground for a long time. They will be comfortable with a familiar name," he told Malaysiakini.
The source added, however, that PKR in Johor did not adopt the "local candidate" strategy exclusively, pointing out that it did field former army chief Md Hashim Hussein in Johor Bahru in GE13.
"But the locals were not familiar with the four-star general, hence Hashim lost with a 10,134 majority.
"Pakatan Harapan should not repeat the same strategy," he said.
PKR has since appointed its Johor chairperson Hassan Karim, state information chief Akmal Nasir, and Tebrau division chief Steven Choong as coordinators for Pasir Gudang, Johor Bahru and Tebrau respectively.
They are widely expected to be PKR's candidates for these seats in the coming general election. All three have worked in the constituencies for many years, despite PKR's losses there.
Artikel disiar pada January 8, 2018 - 3:33 pm oleh Susan Loo