Dr M feared cutting up corpse in medical school, reveals Siti Hasmah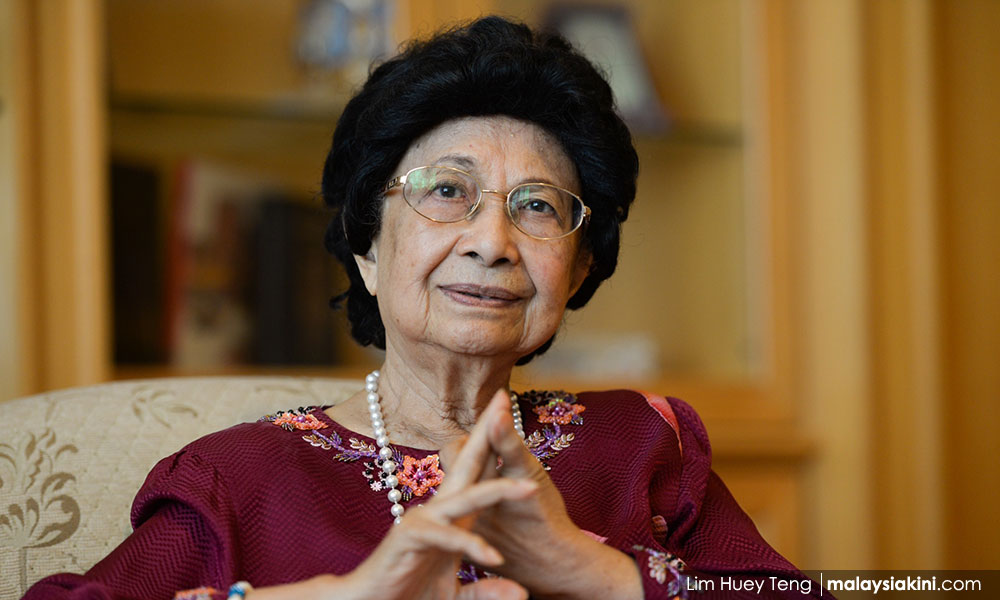 Dr Mahathir Mohamad is renowned for sending political careers to the morgue. But his wife reveals that the 93-year-old former premier was not fond of dissecting a corpse when he was a medical student.
In an interview with Oriental Daily News, Dr Siti Hasmah Ali said this fear nearly led Mahathir to drop out of medical school.
To overcome this, she said her husband had asked a senior to accompany him to the dissection room in order to touch the corpse.
Before the interview started, Oriental Daily News stated that Siti Hasmah, 92, carefully adjusted her dress and joked, "When you have a husband like Mahathir, you would pay attention to these details."
She also revealed how her husband would complain if she could not decide on what to wear and also tell her to watch her diet if she put on weight.
"Mahathir would decide his attire for the next day before going to bed. I would have picked out a particular attire but might want to change it the next day and Mahathir would grumble," she said.
Theirs is a six-decades-old love affair. But Siti Hasmah revealed that it was not exactly a case of love at first sight.
On the contrary, it was a relationship which witnessed numerous arguments.
Siti Hasmah and Mahathir had met when pursuing their medical degrees at Singapore's University of Malaya.
The former premier had proposed to tutor her and this is when the two of them became close.
Mahathir, who is known for not mincing his words against political adversaries, was apparently just as unforgiving with regard to Siti Hasmah's poor grasp of Physics.
"Mahathir always said I was stupid," she said.
"He couldn't understand why I failed to master Physics. This was easy for a bright student like Mahathir. I only managed to obtain my medical degree with the help of Mahathir," she added.
Siti Hasmah said that it took her eight years to complete her degree compared to the normal six years.
During the interview, she also revealed that her first choice was journalism and not medicine.
Siti Hasmah said she was fond of writing since school and scored an A for English but did not fare as well in science subjects.
However, her ambition changed when her mother fell ill.
"… I nearly lost her. I still remember my father calling all of us to her bedside and asking us to pray for her.
"I wondered what had happened to my mother. I wanted to find out the reason (for her illness) so that I could take care of others as well," she added.
Siti Hasmah said she and Mahathir had seldom discussed politics in the past, as the latter preferred to keep things to himself.
"He knows me, so he does not want me to be worried.
"Just like his 2002 announcement of wanting to resign. He did not inform me. I was shocked (when the announcement was made)," she added.
Artikel disiar pada February 22, 2018 - 2:19 pm oleh Susan Loo