Harapan manifesto proves it's not ready to govern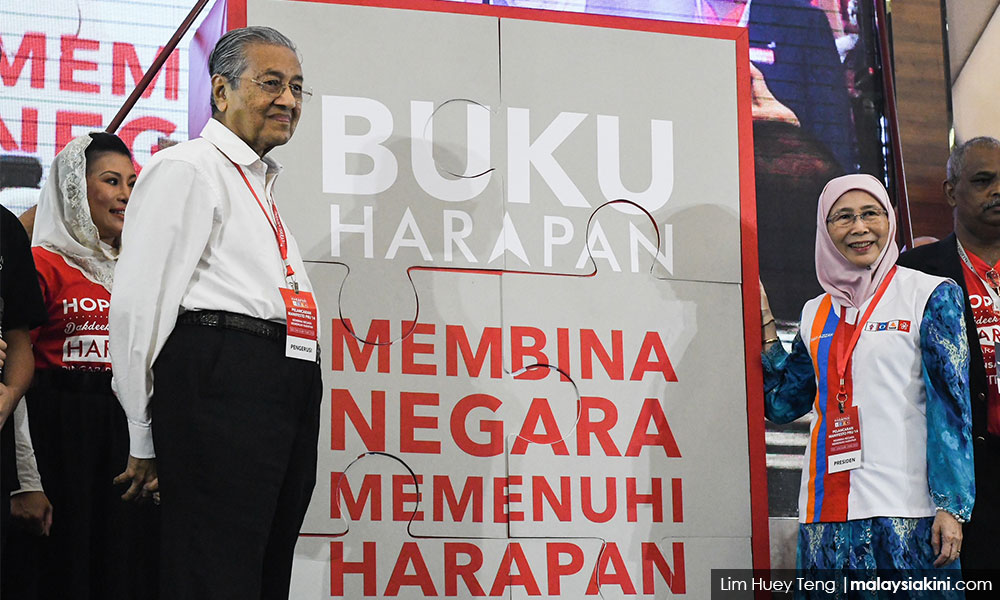 COMMENT | Pakatan Harapan launched its 14th general election manifesto at a grand ceremony in Shah Alam. In its haste and attempt to appease the voters when the GE14 fever is in high gear, Harapan appears to have aped BN's implemented action plans.
Inadvertently, Harapan seems to have endorsed BN's executed promises including abolishing tolls, streamlining PTPTN (higher education) loans and Felda settlers.
However, a quick review of the main points in the manifesto will shed some light on the reality of its implementation.
Abolishment of GST
The present government introduced the GST to replace the Sales and Services Tax (SST) which has been in place for a long time, in order to implement a progressive taxation system to rationalise the existing taxation system/ structure. The SST is not a direct tax system unlike the GST, which is a value-added tax and a global tax system, lately introduced by India.
The question now is Harapan going to adopt a regressive taxation system which is not consistent with global standard, taking Malaysia backwards?
The government since the implementation of GST has collected revenue of an average of RM40 billion. How is Harapan planning to derive this tax revenue?
Streamlining minimum wage with East Malaysia
The present government has already implemented a minimum wage plan after taking into consideration various factors. While it is easy to propose a higher a minimum wage, its impact on employers and the cost of living in East Malaysia have to be taken into consideration.
Harapan's proposal to streamline the minimum wage throughout Malaysia seems less practical given the different environments in which we operate.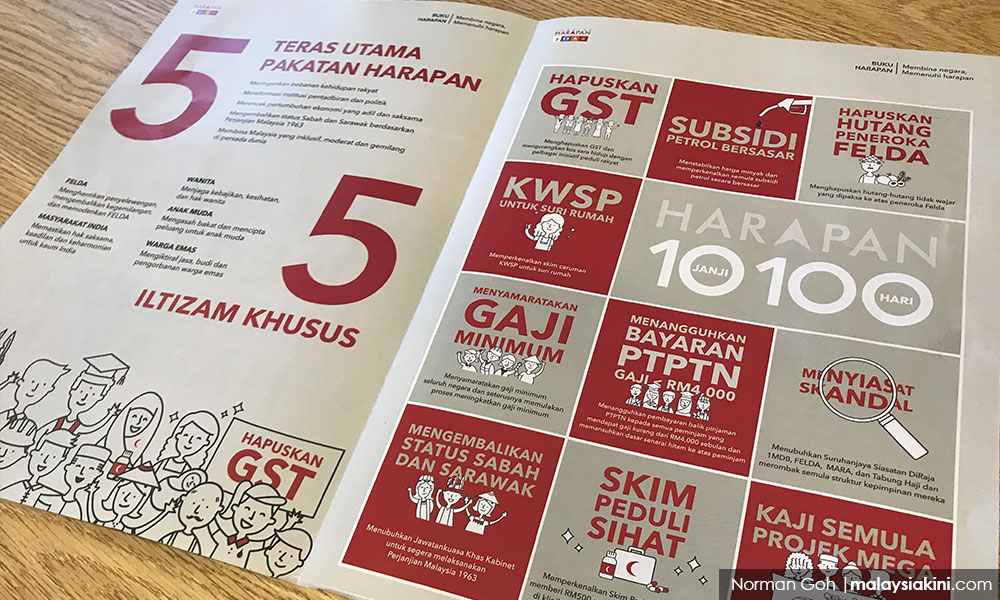 Reducing the burden in PTPTN
In many developed nations when free education is given, the income tax rates are generally high to balance the cost of free education. Currently, our education system is subsidised over 90 percent and the government has been liberal in assisting PTPTN loan holders with incentives, such as discounts and converting loans into a free scholarship for holders with excellent results.
Is Harapan hoping to raise income tax to a higher level to accommodate the free education system?
Special committee to review the Malaysian Agreement 1963
The government since 2009 has taken a liberal stance in ensuring an equitable share of wealth with the East Malaysian states, namely Sabah and Sarawak. MA63 has been reviewed regularly and effective July 2018, Sarawak is set to receive full rights for its oil and gas revenue.
Review of mega projects
Nation building happens through development projects. Any government that is far-sighted will execute a development plan. Development plans carry an economic multiplier effect and create employment opportunities for short-term and long-term economic sustainability.
Only an irresponsible government like Harapan will emulate its reserves and bank balances without a responsible development plan. Look at Selangor facing a major water crisis and Penang unable to remedy its flood mitigation plan.
Plans for minority groups
The government has specific development plans for the Chinese, Indian and Orang Asal communities. These plans are announced during the annual budget. Long-term plans have resulted in the communities being allocated billions of ringgit.
Institutions like the Secretariat for the Advancement of Malaysian Entrepreneurs (Same), Socioeconomic Development of Indian Community Unit (Sedic) and Orang Asli Development Department (Jakoa) have been in place to address statelessness as well as social and economic empowerment.
For the Indian community, the Malaysian Indian blueprint addresses their 10-year needs.
Harapan's manifesto does not provide a new dimension or approach to managing our country and hence a tested government with its people's first approach is far better than empty untested promises coupled with unfulfilled promised made in GE13 in Selangor and Penang.
In short, Harapan has proved via its manifesto that it is not ready to govern the country as its manifesto mostly comprises implemented action plans of the BN government.
---
MATHURAIVERAN MARIMUTHU is a chartered accountant and MIC central working committee member.
Artikel disiar pada March 12, 2018 - 2:49 pm oleh Susan Loo