Five activists acquitted for gathering in a prohibited place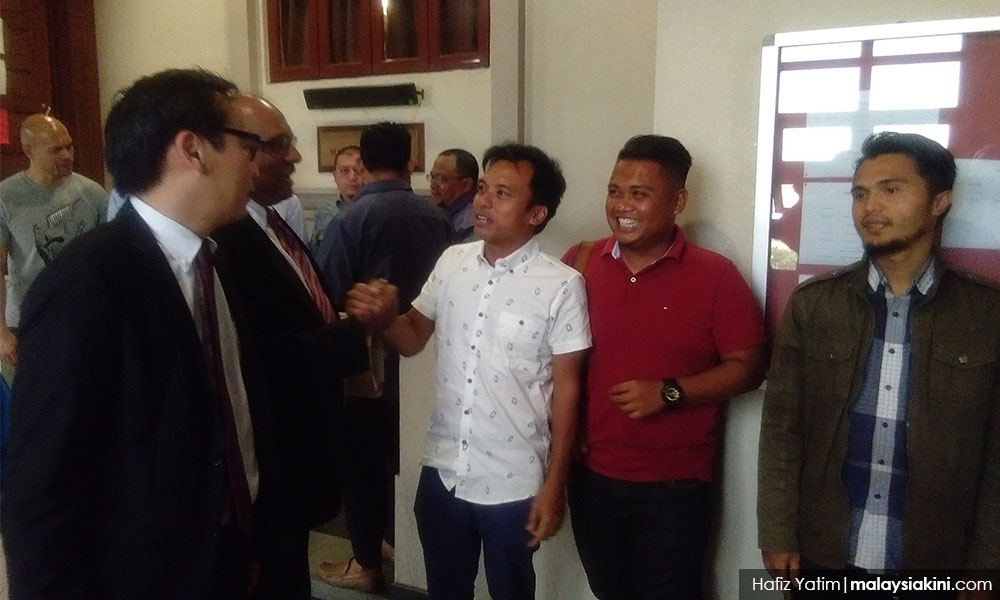 Four activists and a former PKR Youth leader were acquitted by the Sessions Court in Kuala Lumpur today for gathering in a prohibited place – a place of worship – before going for the Black 505 rally five years ago.
This is the first time that accused persons have been acquitted for illegally gathering at a place of worship.
The five are student activists Adam Adli Abd Halim, Muhammad Safwan Anang, Ekhsan Bukharee and Mohamed Bukhairy Mohamed Sofian; and former PKR Youth deputy chief Khairul Anuar Ahmad Zainuddin.
They were acquitted by Session Court judge Zainal Abidin Kamarudin at the end of the defence case.
"The defence failed to prove its case beyond reasonable doubt," Zainal Abidin said in acquitting the five, and ordered their bail sums to be returned.
However, the judge did not make any decision on incumbent Bukit Katil MP Shamsul Iskandar Mohd Akin, who was similarly charged but has yet to finished his defence as he is calling another two defence witnesses.
Following that, Zainal Abidin fixed April 18 for continued hearing.
All of them were charged under Section 4 (2) (b) of the Peaceful Assembly Act for gathering at the Ar Rahman Mosque on Jalan Pantai Baharu in Lembah Pantai, Kuala Lumpur, on June 22, 2013.
Adam Adli, Safwan, Ekhsan and Bukhairy were represented by Eric Paulsen while A Jayaseelan appeared for Khairul Anuar.
Haijan Omar and Michelle Ng appeared for Shamsul Iskandar, while DPP Nurulhuda Nuraini Mohd Nor appeared for the prosecution.
Paulsen described it as a good victory for activists, after five long years.
Artikel disiar pada April 13, 2018 - 8:30 pm oleh Susan Loo