Hadi: Vote PAS in GE14 because we are clean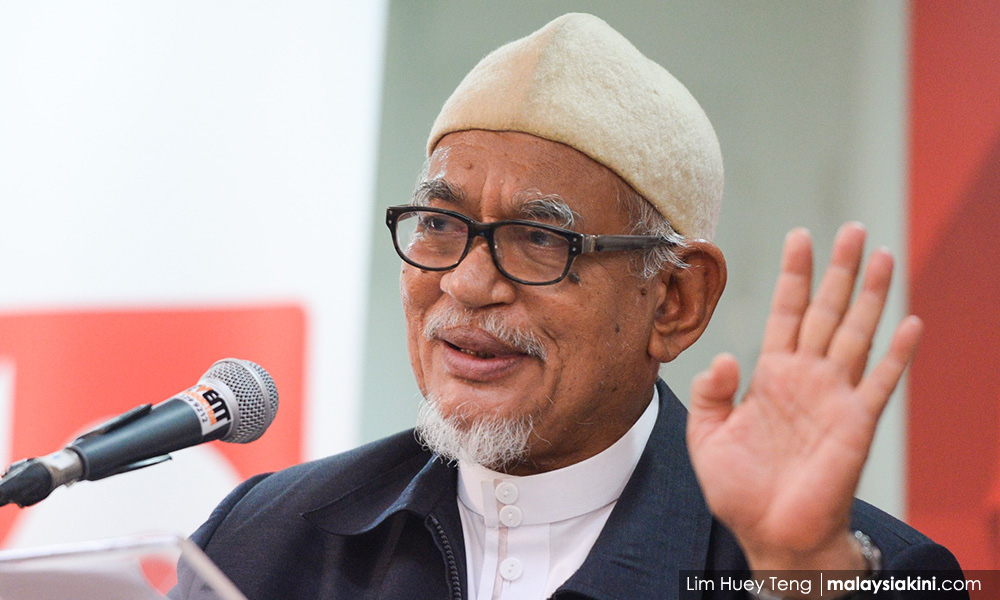 GE14 | PAS president Abdul Hadi Awang has urged voters to support PAS in the 14th general election (GE14) because the party's leaders are free from corruption, "unlike those from BN and Pakatan Harapan".
The fact that no PAS leader had been probed by the MACC is a testament to the party's integrity, Hadi said in a statement today.
"Thanks be to God, PAS kosong (zero). Not a single one has been investigated even though PAS (has) run Kelantan, Terengganu and Kedah with limited funds from the federal government.
"PAS has also been part of governments led by DAP in Penang, PKR in Selangor and we have once led the Perak government. This proves how clean PAS leaders are," he said.
Hadi cited a remark by caretaker minister in the Prime Minister's Department, Paul Low, that MACC has in the last five years investigated 71 BN politicians and 21 Harapan counterparts for corruption.
PAS was once part of the now-defunct Pakatan Rakyat, together with DAP and PKR. The Islamist party will contest in GE14 as part of the Gagasan Sejahtera coalition.
"What PAS offers to the rakyat can't be done by other political parties because we are based upon the Islamic faith. We do not separate between politics and religion and we believe in the afterlife, where our sins matter.
"I urge all Malaysians regardless of religion, race and ethnicity to give PAS a chance to rule in accordance with Islamic solutions that are fair to all so that we can bring about peace, harmony and prosperity to the country.
"PAS will present candidates of various backgrounds who are of calibre, and free from corruption, to lead and rule the states and the country," he said.
PAS will never join BN or Harapan
Hadi then went on to explain why PAS would never join forces with either BN or Harapan.
"The way BN is ruling the country is full of problems, which present obstacles to the principles and objectives of PAS. PAS is not able to work with a government that has been accused (of wrongdoing).
"PAS will not enter Harapan (either) because we clash with their principles and concepts. In it (Harapan) are parties and leaders who continue to oppose Islam openly, covertly or opportunistically.
"DAP dares to talk about things that involve Islam like the RUU355 (Syariah Courts (Criminal Jurisdiction) Act 1965), something that has no relation with non-Muslims.
"And in that coalition are leaders who conspired in the cause of the country's problems and who have been accused many times (of wrongdoing)," he said.
The RUU355, or Act 355, presented by Hadi in the Parliament, seeks to increase punishment caps for syariah offences, from three years of imprisonment, RM5,000 in fine and six strokes of the whip to 30 years in jail, RM100,000 fine and 100 strokes of the whip.
The controversial bill has received backlash from DAP, lawmakers as well as from NGOs.
Artikel disiar pada April 13, 2018 - 8:31 pm oleh Susan Loo