Najib announces RM50m in fuel cards for 67,000 cabbies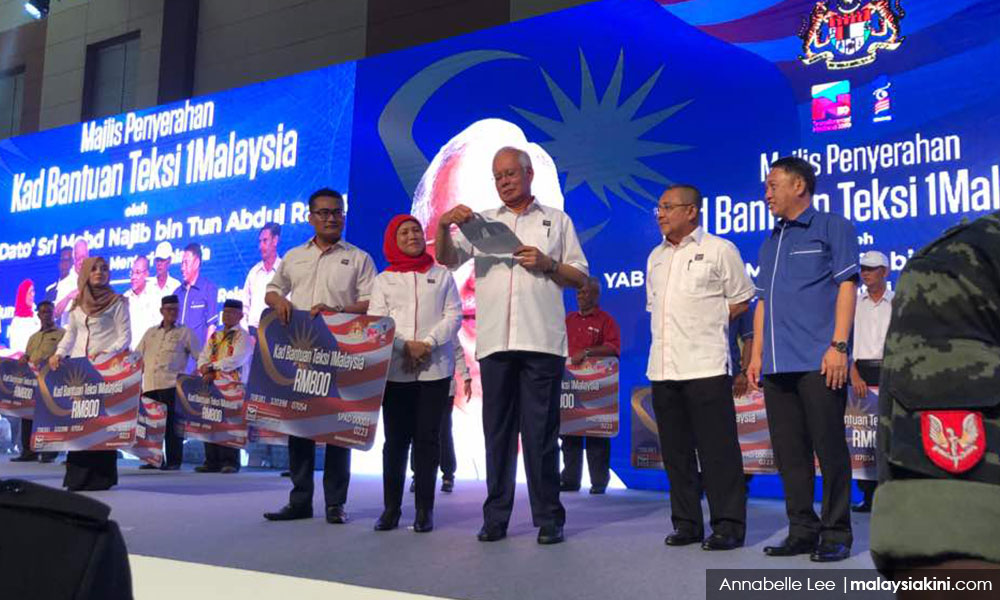 GE14 | Caretaker prime minister Najib Abdul Razak has announced RM53.6 million worth of aid for taxi drivers nationwide.
The money will be used to provide 67,000 taxi drivers with 1Malaysia Taxi Aid cards, which allows them to pump RM800 worth of fuel.
"I know your income is affected by the coming of e-hailing services in the country, but we had to do something without affecting your rice bowls.
"After reviewing this, it is my pleasure to announce that the government will be giving out 1Malaysia Taxi Aid cards to some 67,000 taxi drivers nationwide containing RM800," Najib told an event in Serdang, Selangor this evening.
He has also announced that taxi drivers will automatically qualify for the 1Malaysia People's Aid (BR1M)
He also announced that taxi drivers, who were previously not applicable for the 1Malaysia People's Aid (BR1M) scheme because they were registered with the Companies Commission will now "automatically" qualify for it.
This follows the recent doubling of BR1M aid by the BN caretaker government which Najib announced last Saturday at the launch of the party's GE14 manifesto.
Najib added that the RM800 limit on the fuel cards could possibly be "reviewed" and increased in the future.
"I will not forget about taxi drivers, you are a group that is close to the government's heart.
"Ladies and gentlemen, if all of you help me, I will definitely help you," he said, eliciting chuckles from the 10,000 taxi drivers present.
The 1Malaysia Aid Cards are available to all registered taxi drivers and enables applicants to redeem RM800 in either fuel or natural gas from Petronas fuel stations.
Each card comes with personal accident insurance worth RM50,000, subject to terms and conditions.
Artikel disiar pada April 13, 2018 - 8:31 pm oleh Susan Loo